Regular price
€998,00 EUR
Regular price
Sale price
€998,00 EUR
Unit price
per
Sale
Sold out
MUTHOS Sonio

The handling of a light rod with the power of a rockshore rod

Powerful rods are necessary for targeting big fish, but they can't handle light lures perfectly. Medium-class rods are good for light lures around 10g, but they lack the strength to fight big targets. The main concept behind MUTHOS Sonio 100M was the need to overcome this issue. We finally created the ideal rod blank based on the MUTHOS Accura and many field tests. The Sonio 100M casts and controls 10g to 100g lures like a medium-class spinning rod with a sensitive, soft tip, yet it displays the exceptional power of a real rockshore rod when fighting big targets.
Model
Length (ft)
Lure WT
Min~Max (g)
Line  (PE)
New Sonio 93M
RG(Ti)
9'3"
Jig 10-100
Plug 10-70
PE1-3
Sonio 100M
K/RG(Ti)
10'0"
Jig 10-100
Plug 10-70
PE1-3
Fuji SiC- Ti Guides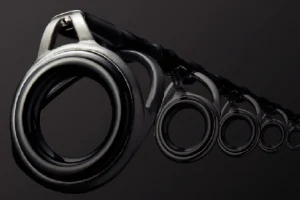 RG Guide System
Our original guide system brings out the fullest potential of spinning rods. It fully resolves the downsides of using PE line and maximizes its benefits with improved cast feel and sensitivity, as well as fewer line issues.
Hexagon Grip
Design Patent No.1638907
ZENAQ's innovative ergonomic hexagonal foregrip, known as the Hexagon Grip, is designed to fit an angler's hands comfortably, giving him or her a huge advantage when fighting large fish. Contoured to maximize grip with minimal pressure, your hand will not tire nearly as much as with a cylindrical handle during a fight with a large fish. Additionally, the hexagonal grip offers more precise lure control, helping you tempt more strikes from fish.
Shipping & Returns

Terms of Payment

PayPal
Credit Card
Bank account deposit

Shipping

Postal service (7-15 days)
Fedex (1-3days)

 

 

Payment policy

The user/consumer/purchaser on our e-shop has the possibility to choose one of the following means of payment for the products that are of his interest:

By credit card

By a third associated online payment provider

By deposit to the bank account of the company

By cash only in case of receipt from the physical location of our e-shop. For more information on our exact location, visit our special section Contact Us*.

By cash-on-delivery, only in Greece.

We do not accept checks as means of payment for any purchase.

It is not possible to combine more than one means of payment for the same order.

According to the applicable tax provisions, any receipt to individuals over 500€ (retail trade) and to professional/businesses (invoice) must be paid exclusively as follows:

By credit or/and debit card

By payment through PayPal

By deposit to a bank account

In case of payment through PayPal or/and another third party online payment provider, you agree or/and accept that you are subject to the terms or/and the operation requirements of the said online payment provider given actually that you have entered into an agreement with the latter upon your registration thereto. In case your money is refunded through a third party payment provider, it is possible that you may be charged with a commission by the said third party provider based on the terms of use and operation thereof. This website as well as its administrator are not responsible for the policies nor the operation of the third party payment provider.

In case of a payment by credit card, the procedure takes place and is completed through the verified bank institution that provides for all the required security conditions for the e-transactions. The collection or/and processing of the payment information that you send takes place only by the associated financial institutions that are solely responsible for the processing thereof in order to complete the payment. Under no circumstances is this website nor its administrator responsible for the security of the operation or/and management of the data of the aforementioned e-transactions by the associated financial institutions.
Share
View full details